Have you ever been in a meeting where you were there in body but not in mind?  Think about what you were doing at that moment.  What was going on?  Who was doing the talking? What was it about?  How did you feel about it?  We've all been there…..half-present.  Whether you are in the education world or corporate, it is human nature to let your mind wander when you are less interested, unmotivated, or exhausted.    Now tune into a meeting where you were ALL IN.  What did that look like?  What did it feel like?  What sold you in the meeting?  Who was doing the talking? During these moments we see time speed by us, and before we know it…..it is over….. leaving us to wonder further on our own.
Everyone's motivation for presence is different, and I could say that it changes daily for each of us.  Consider how this applies to our classrooms with students. They are with us every day.  Do you have half-present students? When you are working with small groups, are you ever concerned of their true presence?  With 1:1 technology, there comes a valid concern over, "What is happening on their screen?"  When marinating over this digital age problem, I've resorted to the basics of analog classrooms.  Earlier, how did we know that students were really reading when they were looking at a book? We didn't. I brought out the shelf of my old standbys prior to Twitter and Pinterest for ideas:
The copy write of these spanned from 1992-2002 and the message was the same. Students must be provided opportunities to be creative and connect content to their real world.  The road from old school to new school may be a little more bumpy than you imagined, but the basics remain the same.
Favorable Learning Climate – Classroom climate, is very important.  Is it established as a place to learn, not just regurgitate information.  If your students feel happy to be there, they are more likely do their best.  Just as in the work force scenario, we all work harder when we feel valued and appreciated.  In the past, I have found more success when goals are set together.  Goals matter more to students when they have a voice in them.  Achieving personal goals does wonders for intrinsic motivation and can move mountains in your classroom.  Voice and Choice – write it down and post it somewhere as a reminder to ourselves to include it throughout our day.  
Consider the 4Cs.  I know, I say it quite a bit.  By encouraging a culture of collaboration, communication, critical thinking, and creativity…..not only are you to have more buy in, but you are also going to help prepare your students for their unknown future.  I hate to break it to you, but hours on end of math fluency practice, does not incorporate these.  Math fluency is important, but should not be taking up most of your students' independent work time.  On the same note, the bulk of their time shouldn't be reading passages and answering questions.  Extend knowledge gained  in literature by rich conversation among students and real world applications.
"Marsha, that is all well and good….but I am only one person, and I am tired."  – you
Although it is really easy to lean on those level 1 DOK activities and programs, there are so many more resources out there that can help your work flow and encourage the 4Cs.  Let me help you.  
Seesaw – Look at how this student sorted his spelling words for Daily Five.  He sorted them and recorded himself reading them aloud.  This gives his teacher immediate evidence that he understands how to sort and read his spelling words for the week. Now is classmates can go in and comment with him about how they sorted their words.
Nearpod – I love the essential questions and immediate feedback of these lessons.  I also love that it has multiple modes of gathering understanding. They also have a really nice VR component.  How about allowing students to independently experience the world while you are meeting with small groups?  Nearpod is a great "safe space" to do so.  
Brainpop – I can't say enough about Brainpop.  If you are only using it for video access, your students are missing out.  Now, students can create their own Brainpop styled videos to demonstrating understanding of concepts.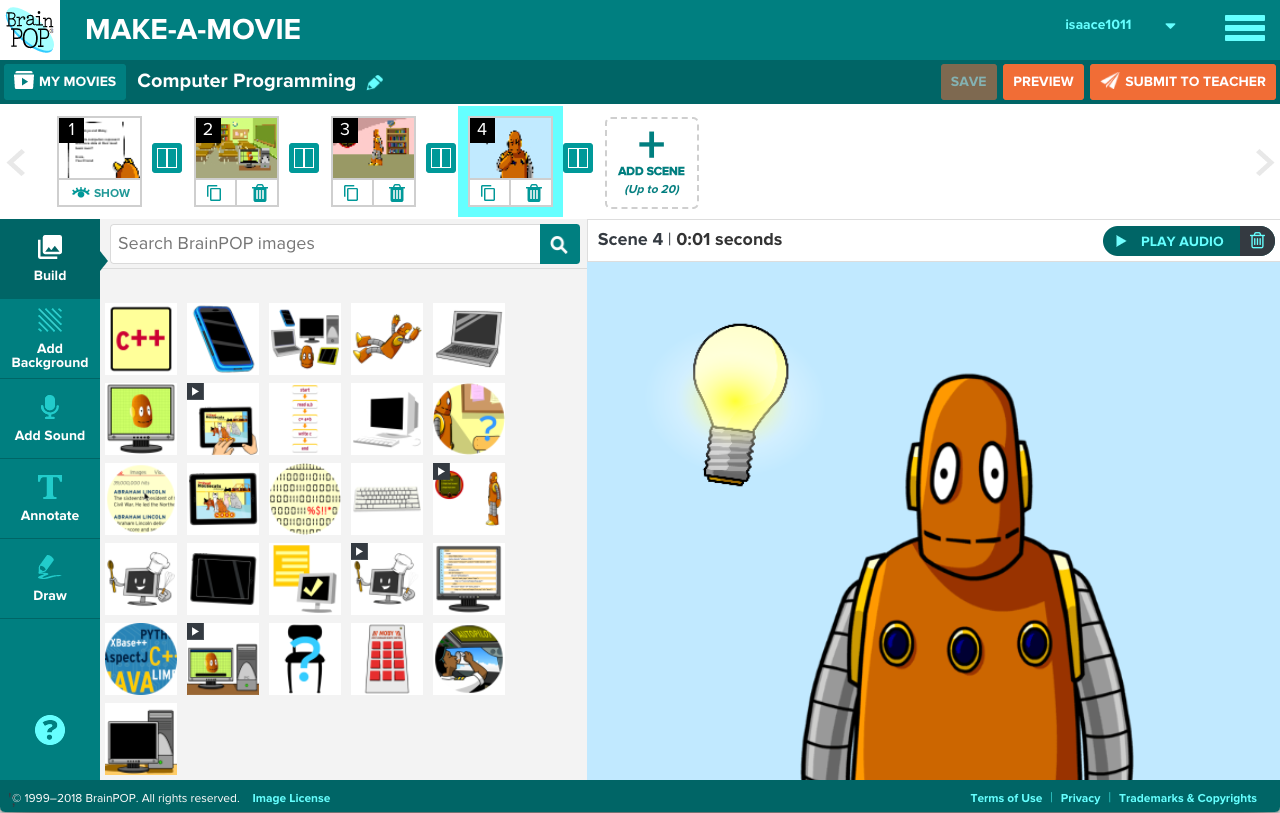 Their concept mapping component is AWESOME!  I love how both give an image bank on each topic.
I'm sure there are many more ideas and opportunities out there.  Ask your students. I encourage you to sit and have a conversation with your class about their "presence."  Remember you are stronger together and will go farther if everyone is ALL IN.
I'd love to hear about great experiences in your classroom!
What motivates you?  
How does motivation relate to learning? 
How can we connect classroom content to the real world? 
How valuable is student buy-in? 
Would you want to be a student in your classroom?